**Guided Day Bushwalks
around Mullumbimbi.
Opportunities for Day walks around Byron Shire &
the North Coast are plentiful. Roger will share with
you a knowledge of the areas flora, fauna
and geology.
Day Walk options include:
** The scenic "Skyline Ridge Track" which follows
an escarpment overlooking both the Tweed &
Brunswick Valley. Meandering through
stands of old growth hardwood forest.
Fleeting views of the valleys
& ocean.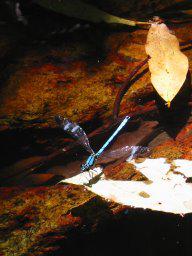 ** Two waterfall walks passing through verdant
rainforest. Their location closely guarded.
Both refreshing summer walks
with the opportunity for a swim in the
pure forest water.
These day walks only require an average
fitness. Bring lunch to lift your energy,
while Roger "boils the billy" for a cup
of tea. Four people max. or if you have
your own vehicle, extra folk are OK.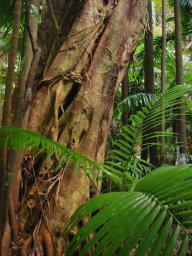 * * Mt. Chincogan plainly visible from the centre of
Mullumbimbi makes a superb four hour sojourn.
From Chincogans' sharp summit, magnificent
sweeping views over the Ocean to
Byron Bay - Brunswick Heads &
west to the Hinterland.
Easy walk, max. four
people. Half day
required.
OR
* * "The Champagne Special" Tour of Mt Chincogan.
Perhaps you have an anniversary of a special event,
a birthday, or just to celebrate life & being alive.
If so, Roger can organise your celebration
overlooking the wide Pacific Ocean &
the "Rainbow Region" complete with
a bottle of bubbly & gourmet
delights! Min two.
** Other optional walks are available
on request.